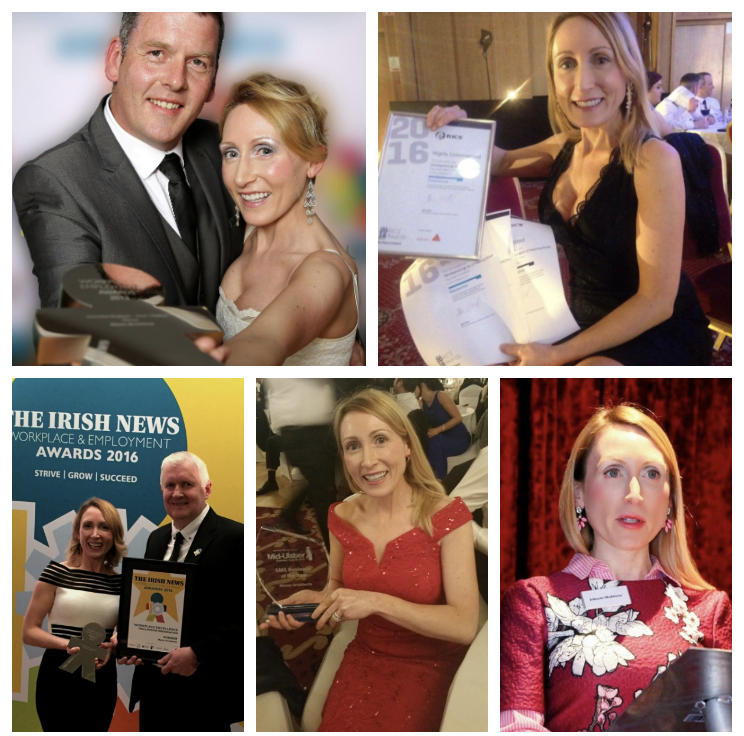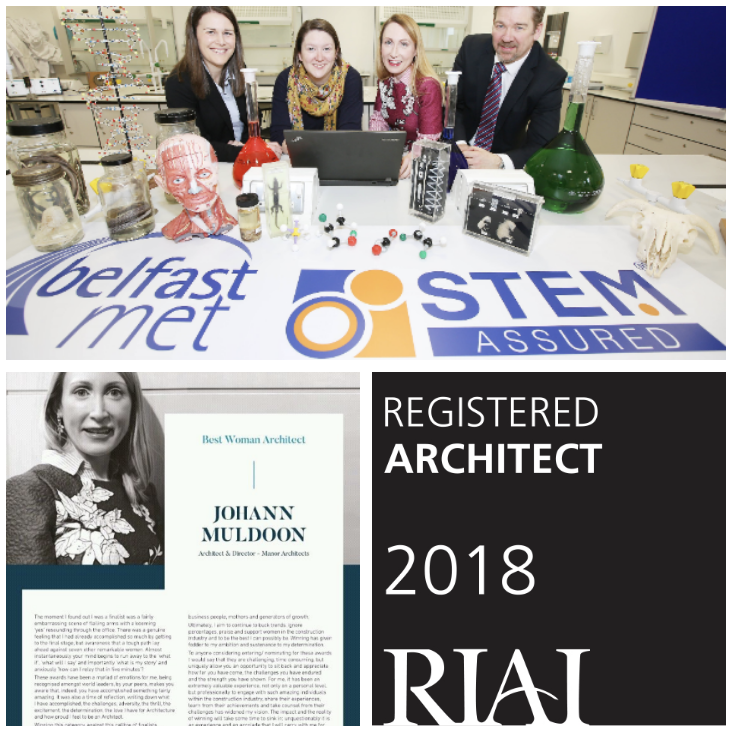 About Johann
Johann Muldoon is an Architect, Managing Director of Manor Architects, an RIBA Specialist Conservation Architect and 2017 MBE recipient, the youngest and first female Architect to receive the honour in Ireland.
She is also a lecturer at the University of Ulster, tutor, key note speaker, has judged a number of architectural competitions and awards. She is also on the parliamentary review panel at Westminster.
Johann has made history at every stage of her career including, but not limited to, the recent accolade from Queen's University as QUB Graduate of the Year as well as Best Woman Architect in Europe, Stem Rising Star Regional Winner (Ireland, Wales and N. England) and a civic award for contribution to business.
At 16 years old Johann was awarded UK Young Entrepreneur of the Year by Sir Richard Branson and has continued the trend being awarded Business Person of the Year twice, Best in Professional Service Ni and a number of other business awards.
Studying at Queens University Belfast and The Mackintosh School of Architecture Glasgow, she attained all awards at her stage and consequently lectured/tutored at both Universities.
Johann was awarded a 1st Class BSc (Hons), the Andrew Forester Award for Top student, the John Trewsdale Award for Building Technology, The City of Glasgow Architecture medal, The Scottish Architecture medal, The Royal Scottish Academy Architecture Prize and Merchants House Bursary.
In business her successes have seen her be awarded Business person of the year 2012 and also 2015, she was also a finalist for this award 2014. Additionally, she was a finalist for Business person of the year CC&G council, as well as Ulster Tatler Business Woman of the Year Finalist 2014, WIBNI Best in Professional Service Winner 2013, Young Director of the year – highly commended 2012 & 2013, Young business person of the year highly commended 2010 & also 2011, WIBNI Business Woman of the year finalist 2012. In 2017 Johann received an MBE for her contribution to Architecture and Business, she also was the WICE Award winner for the Best Woman Architect in Europe. Johann also was the Stem Rising Star Regional Winner 2017. Johann received the Queen's University Graduate of the Year Award 2017. Other achievements Johann got in 2017 were RICS Finalist 2017, Creative Industry Finalist 2017, and Workplace Excellence Finalist 2017.
Johann has extensive experience in delivering complex and challenging projects in all sectors at all scales.
_
Educational Achievements
Queens University Belfast:
• 1st Class BSc (Hons) degree
• Andrew Forester Award for Top student
• John Trewsdale Award for Building Technology
• SK Kahn Design Competition winner
The Mackintosh School of Architecture, Glasgow:
• Dip (Arch) & M.Arch
• The City of Glasgow Architecture medal
• The Scottish Architecture medal
• Royal Scottish Academy Architecture Prize
• Merchants House Bursary Award
• Became the youngest tutor in the history of The Mackintosh
• RIBA/ ARB Chartered Architect
Specialist Conservation Architect
"I met Johann at the WICE Awards Judging day in 2017, where I was a judge for the category of Best Women Architect. Johann is an extremely talented and capable Architect with a warm and genuine personality. Her resilience and business acumen shines through, balanced with a deep interest in designing and achitecture to a very high standard. I have not a shred of doubt that the various awards and honours that Johann has received are completely deserved. It was an honour for me to judge her at the WICE Awards and to see her career and profile flourish."

Alex (Alexander) Naraian PCIAT ICIOB
"I commissioned Manor Architects to lead the design team on delivery of this 3-storey mixed used development of 8 No. apartments with 2 No. retail units at ground level. The site had been vacant and a prominent gap site within the town of Magherafelt. As my first development project, I am extremely happy with the outcome. It was delivered on time, within budget and I am very pleased with the level of professionalism by the team and the workmanship shown. There is no question that the project has regenerated this part of the town and really brought life back to a gap site that had been vacant for many years. Manor Architects were easy to work with; They ensured everything ran smoothly and that the workmanship, costs and funding all ran in accordance with the contract and programme and I would recommend them without hesitation."

Carmel McGuigan Opticians
"We have found Manor Architects excellent to work with, with planning achieved above and beyond what we could have hoped for, in what was undoubtedly a difficult planning application, when another architect had previously struggled. The project has been completed on time, to an extremely high standard. Manor Architects have always been readily available throughout the project to provide expert advice and any difficulties with the build have been resolved promptly and professionally."

Noel + Orla Napier
"Many congratulations on achieving what is a signpost planning success for both Dunluce Castle and for planning in Northern Ireland."

Mr Ian Paisley MP
"I have dealt with Johann in her role as Director of Manor Architects on numerous occasions and have always found her to be highly knowledgeable and professional in her approach, and extremely assured whether she is advising politicians and government Ministers on planning policy, delivering multi-million-pound projects or progressing local planning applications. Johann's business achievements are second-to-non, as can be seen in the number of awards she has secured. I firmly believe that Johann is an exceptional architect and business person, who has contributed a tremendous amount to the local construction sector in NI."

Patsy McGlone MLA
"We have just recently been involved in building a new home for ourselves, which is just coming to completion. Obviously, this was a daunting, albeit exciting undertaking. Manor Architects were recommended to us to plan and manage this project. We have found them excellent to work with, with planning achieved above and beyond what we could have hoped for, in what was undoubtedly a difficult planning application, when another architect had previously struggled. The project has been completed on time, to an extremely high standard. Manor Architects have always been readily available throughout the project to provide expert advice and any difficulties with the build have been resolved promptly and professionally."

Noel + Orla Napier
"I first met Johann Muldoon two years ago, on a project for a visitor centre and supporting facilities at Dunluce Castle in Northern Ireland. She was the lead consultant and project design architect for this iconic castle site, one of the most photographed and dramatic cliff-top locations in Ireland. I was impressed by her professionalism, design skill and flair as she drew together an architectural scheme which creatively responded to the sensitivities and potential of the site. We have now collaborated on a series of other projects where I have seen the same combination of sound professional judgment, design confidence and strong communications skills, working in a highly effective way for the benefit of clients and their development aspirations. I have no hesitation in commending Johann Muldoon, as she is a highly capable, and creative architect who is strongly committed to her profession and enthused by the vital contribution it brings to the environments in which we live."

David McQuitty, BA (Hons) Dip LD, CMLI
"I have known Johann Muldoon both in a professional and personal capacity for over 10 years. As Planning Consultants we have worked collaboratively with her on a professional basis on various architectural and engineering projects throughout Northern Ireland, Johann's contribution in terms of outstanding people skills, unique architectural style and ability to deliver continually instils an unrivalled confidence within the team ensuring the task is completed to the highest possible standards and delivered on time. Johann is a highly qualified and experienced architect and an extremely inspirational lady. Her extensive portfolio of achievements is testimony to this and having won so many prestigious awards and commendations makes her stand out above all others in her professional and personal life. She is a highly driven. ambitious, hardworking and motivated person who inspires others. Her sheer commitment to the industry, energy and passion comes across with real zeal and it is such a pleasure to work with her in all aspects of the architectural and planning projects that we have been involved in. Her design flair is exceptional and as a recognised conservation architect she is highly regarded and respected in the safeguarding of our built heritage. Her ability and determination to deliver the required result is unstoppable, making her stand out from her peers."

Ken Moore Dip TP IHBC
"I have worked and liaised with Johann Muldoon for the past 2-3 years whilst attempting to restore one of the few remaining John Nash houses in the UK. As one of the very few Specialist Conservation Architects in the UK, she has a recognised ability, skill and experience in this area which we found extremely valuable. I would have no hesitation in recommending Johann for any position and as someone who acts in an honest manner with the utmost integrity."

Alan Cross

Lissan Rector
"I have known Johann Muldoon of Manor Architects for 10 years. As a former District Councillor with Magherafelt Council I had been involved with Johann in numerous planning matters and indeed more recently have sought her help and advice on particularly difficult planning questions I have found her to be professionally excellent in every regard. Her work has been outstanding and has been deservedly recognised as such throughout the country. Her integrity, in principles of design, operation in business and in all her dealings with others is exemplary."

Kate Lagan
"I have known Johann Muldoon for more than 8 years in a personal and professional capacity. In both capacities she has always acted with the utmost integrity, honesty and straightforwardness. She speaks with authority, detailed knowledge and expertise as well as passion and a desire to do her utmost for her clients in gaining approvals on what can be very contentious sites. Johann was able to make history in a strategically significant application for me personally, seeing a planning application recommended for approval within 8 weeks. She has raised the bar for women in her profession and her CV and her array of awards speak for themselves."

Mechelle Law

Invest in Sport Ltd
"Having developed a number of sites, mainly in more rural settings, this development really has regenerated and revitalised a site which did little for the town or the main vantage point from the Diamond. Obtaining planning permission was a challenge as 2 storey houses were being replaced by a 4-storey development, however the design team were able to overcome any hurdles and put forward a very convincing argument. The result is a project and building which myself and my wife are very happy with."

Michael McAllister

Three Spires House, Magherafelt
"Johann and the Manor Architect team delivered an exceptional piece of work and brought to the table a creative, thoughtful, diligent and professional approach, which not only made our experience enjoyable, but the end product/deliverables were rich in content and creativity. Manor Architects also went beyond the initial brief and delivered a branding concept for the town in the form of a unique and striking sculptured signage, which fitted perfectly with our town heritage and essence. Without Manor Architects, it is safe to say that we would certainly not have progressed our enthusiasm for our town regeneration to where we are at present. We welcome and anticipate future work with Manor Architects."

Gary Burns

Burns & Co
"In my role as Chief Executive of Workspace Ltd, a Social Enterprise involved in the regeneration of the Magherafelt area, I have undertaken a number of developments and projects in association with Manor Architects. It is in this capacity that I have worked closely with Johann Muldoon over the past number of years. Through Manor Architects, Johann has been involved in a number of these projects ranging from small refurbishment projects to the more major development of both business units and housing. Johann's knowledge and experience have been key elements in advancing and guiding us through these various projects and her enthusiasm and clarity of vision has ensured that these projects have meet the requirements that we as her client hoped to achieve. I have always found Johann to be a most capable and committed individual who strives for excellence in the projects she works on together with ensuring complete satisfaction on the part of the client."

Brian Murrary

Workspace
"Johann began working on my behalf and for four years she fought against great adversity and challenges from all fronts to secure a landmark result. Only for her unbelievable commitment, resilience and dedicated professionalism, over a four-year period, we would have never gained this outcome."

Sean McKinley

Dunluce House
"Manor Architects were commissioned by the Select Vestry of St. Tide's Parish Church, Ballyscullion, Bellaghy to provide professional services in connection with the conservation and repair of our 'Grade B listed' church building. Johann Muldoon provided the key role in the delivery of the project, working closely at all times with the Select Vestry and going the extra mile to meet the exacting requirements of the Vestry and our co-founder, the Heritage Lottery Fund. Johann is passionate about conservation work and will go over and above the expected level of service to reach a successful outcome. Her dedication, commitment and enthusiasm has been appreciated by all members of the Select Vestry and was instrumental in delivering the successful project we are immensely proud of."

Wesley Davidson (Mr.)

Ballyscullion Parish Church (St Tida's)
Masterplanning / Planning
Glasgow Office
9 Woodlands Terrace
Glasgow
G36DD
Ballymoney architect is global 'maverick'
A BALLYMONEY architect has emerged from the 2020 Covid pandemic lockdown recognised as a 'maverick' in her field by two separate globally prestigious business awards competitions. Manor Architects' Johann Muldoon MBE revealed to The Chronicle that the perception that people from Northern...